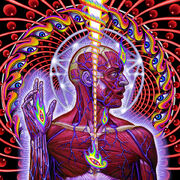 Lateralus is the third studio album by American heavy metal band Tool.
Release date: May 15, 2001
Label: Volcano
Clear disc tray?: Yes
Track listing
Edit
The Grudge (D Minor)
Eon Blue Apocalypse (D Minor)
The Patient (D / A Minor)
Mantra (none)
Schism (D / A Minor)
Parabol (E Minor)
Parabola (E Minor)
Ticks & Leeches (E Minor)
Lateralus (D Minor)
Disposition (B Minor)
Reflection (B Minor)
Triad (E Minor)
Faaip De Oiad (none)
2001 US CD
Edit
Community content is available under
CC-BY-SA
unless otherwise noted.